Elegy for the Last Male Northern White Rhino
by Dean Young

To read Dean Young's Elegy for the Last Male Northern White Rhino is to know that "one idea is a door can be opened / by pressing your forehead against / a sheet of paper." In this new chapbook he is at work, stacking the broken rowboats as he suggests that there is always one more dimension. He has spent years "in a steel cage counting syllables." Come now. Count with him.
Order From Amazon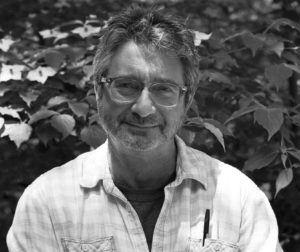 DEAN YOUNG has published 13 books of poems, most recently Shock by Shock and Bender from Copper Canyon Press. A new book, Solar Perplexus will be published in 2019. He has received recognition for his work from the National Endowment for the Arts, the Guggenhiem, and the Academy of Arts and Literature. Hollyridge reprinted his second book, Beloved Infidel, and a chapbook, The Foggist.
---
Also Available From Hollyridge Press:
Order Beloved Infidel From Amazon Order The Foggist From Amazon