Welcome to Hollyridge Press.  We publish contemporary poetry chapbooks and literary fiction from established and emerging authors.  Here are some of our featured books.
Present Conditions

by JOSEPH MASSEY
In his new chapbook, Present Conditions, Joseph Massey writes that "the weather within / is the weather without." His poems chronicle a difficult winter where the universe grows colder, his speaker taking all day to "filter out the debris of a dream."  These poems bring us the aching beauty of the natural world, and the crushing sadness of interior space.  A speaker's failed suicide.  The return to sanity.  The waiting where we can't go on, but we do go on, if nothing else when "the windows / . . . go blind."
Order From Amazon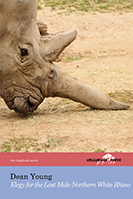 Elegy for the Last Male Northern White Rhino
by DEAN YOUNG
To read Dean Young's Elegy for the Last Male Northern White Rhino is to know that "One idea is a door can be opened / by pressing your forehead against / a sheet of paper." He has spent years "in a steel cage counting syllables." Come now. Count with him.
Order From Amazon
by TONY HOAGLAND
His latest chapbook from one of America's premier poets of social custom and culture. New York Times reviewer Dwight Garner says that, "Hoagland is demonically in touch with the American demotic."
Order From Amazon
The Final Audit

by Ronald Alexander
"Alexander is an accomplished writer with a deft hand for characterization, and his work is a joy to read."
—LA Weekly
Order From Amazon