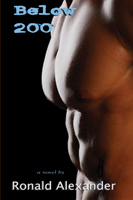 Below 200
by Ronald Alexander
"An important historical novel about the AIDs crisis."
—Ian Randall Wilson , Author of Hunger and Other Stories
In 1987, when Chris Hale tests positive for the AIDS virus, he is thirty-seven years old and doesn't expect to see forty. It is a time when HIV infection signifies death. As Chris looks back over his life taking stock, memories of his father—who died from emphysema and whom he believes neither loved nor accepted him—now haunt him. Chris, who's kept his sexual identity secret, spends his time outside work in the bars and at the gym and has never had a serious relationship. After learning that he carries the virus, he wants to lead a healthier life but finds that he's unable to resist the lure of alcohol, drugs, and casual encounters that are a part of the scene—until he meets Dean. This beautiful man appears to be everything that Chris is not: confident, affectionate, artistic, and extroverted. And he loves his father. But when Dean suggests living together, Chris confides that he is positive and learns that Dean hasn't been infected. Undeterred, Dean moves in and things are fine until a boy from Chris's past shows up. Despite having found love, Chris is tempted to do drugs and engage in casual sex. A series of crises, coupled with the ever-present concerns about his health, lead Chris to an important decision. In this introspective, revealing, and sometimes humorous novel, Chris struggles to understand his family, his late father, his friends, and his world, which is filled with the illnesses and death of friends and prior sexual partners. In the process of looking at those around him, and his relationships with them, Chris comes to a better understanding of himself and his capacity to forgive and to love without condition.
300 pages
softcover
ISBN 10 0-9799588-1-4
$19.95
Read an excerpt.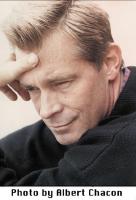 Ronald Alexander is a Pushcart-nominated writer whose work has appeared in the Chicago Tribune, The James White Review, and Columbia: A Journal of Literature and Art. His novella, Romanze For Martha, was a finalist in the St. Andrews Novella Competition. He has an MFA from Warren Wilson College and lives in Mexico.
---
Order the Paperback From Amazon
Order the Kindle Edition From Amazon