Drive
by Rob Roberge

"Spend the money, buy the book, take the ride."
—Francois Camoin, winner of the Flannery O'Connor Award
In Drive, Rob Roberge brings together an eclectic group of characters bound by the Sarasota Sun, a minor league basketball team in the newly formed (fictional) Gulf Coast League. It is 1994. Florida. Ben Thompson, former college basketball star and current drifting loser, becomes the coach of the Sun and meets his team. Among them, the talented but erratic Kenny "Money" Cash, one-time superstar turned drug casualty Darnell Latimore, and Hedda Davis, a female college all-American signed by bizarre team owner and fast food millionaire, Rube Parcell aka the "Chicken Man" to increase publicity for the team.  Along with the drama on and off the court, Ben Thompson finds himself navigating the unfamiliar waters of love with Sean, a feminist stripper who is as much into narrative theory as she is body piecing. This is a dark, funny, compassionate novel from a writer who has been called "the laureate of any marginalized demographic, a professor of the articulately disenfranchised." It'll draw you into what it means to be alive.
184 pages
Hardcover
ISBN 0-9772298-4-X
$23.95
"I picked up Drive and I didn't put it down. The people in this book are sharp and damaged and they won't let you go even when you've finished reading."
—Katie Arnoldi, author of Chemical Pink
"What we need are more stories that back us into corners. We need books that show teeth, and Roberge has given us one in Drive. "
—Darrell Spencer, winner of the Drue Heinz Award
"Drive lets you know that the world isn't always as simple as winning and losing, it's sometimes just enough to survive. Drive cements Rob Roberge's place as the voice of the underbelly. "
—Tod Goldberg, author of Living Dead Girl  and Fake Liar Cheat
Order the Hardcover From Amazon
---
Also Available in Softcover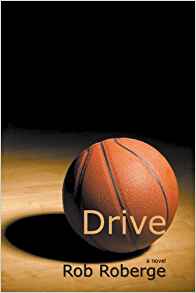 Softcover
180 pages
ISBN 10 0-9843100-4-5
$12.95
Order the Softcover From Amazon
---
ROB ROBERGE is the author of More Than They Could Chew (Dark Alley/Harper Collins, 2005). His short fiction has appeared in ZYZZYVA, Chelsea, and Alaska Quarterly Review, and the anthologies, Another City: Writing from Los Angeles (City Lights Books, 2001) and It's All Good (Manic D Press, 2004). He writes, plays and sings with the bands The Danbury Shakes, The Violet Rays and The Chairs of Perception. He is on the faculty at the UCLA Extension and Antioch College (Los Angeles). He lives in Long Beach, California. More information is available at: myspace.com/robroberge.
---
Also Available on Amazon Kindle