Jack Kerouac's Avatar Angel:
His Last Novel
by Chuck Rosenthal

"Best book by a dead man in years."
—William Burroughs
It's the find of a lifetime! Buried in the basement of the house where Jack Kerouac was born, author Chuck Rosenthal discovers a lost, unpublished manuscript from the King of the Beats. In the tradition of Hawthorne's The Scarlet Letter, Rosenthal brings us Jack Kerouac's Avatar Angel: His Last Novel. Twelve years have passed since Kerouac's death when he returns from the grave as Jack Duluoz. He sets off one last time to chart the experience and conscience of a generation grappling with a changed culture, disjunctive and fragmented. On the road-again-he encounters old friends and lovers: Raphael Urso (Corso), Irwin Garden (Ginsberg), Bull Hubbard (Burroughs), Johnnie Palmer (Parker), Japhy Ryder (Snyder) and others. In the Reagan 1980s, Kerouac/Duluoz swings to the beat of a lost America: to the music of a holy bum around a camp fire, the belching diesel of a long distance bus ride, the silence of a chill dawn. At once visionary and elegant, restless and incantatory, Rosenthal's writing achieves a rare beauty, his sensitivity to language as great as Kerouac's, beating out time as the novel leaps forward in sentences of poetic sweep and whirl. His characters struggle to make sense of a world without sense, a world that speaks in the stilted conversations of commerce, a world that no longer loves the word. In an exuberant novel of great wit and great loss, the emptiness Kerouac/Duluoz encounters is palpable and tragic, unforeseen but inevitable, both familiar and foreign to America's most famous mystic traveler.
150 pages
Hardcover
ISBN 0-9676003-2-4
$23.95
"There's hopped-up frenzy and plenty of wit."
—Kirkus Reviews
"Up to its ears in eloquent Void."
—Allen Ginsberg
"Befuddlfying!"
—Neal Cassady
"Wot a crock!"
—Gregory Corso
---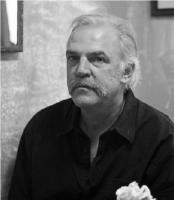 CHUCK ROSENTHAL is the author of more than seven novels, and a memoir. His fiction has appeared in many journals including The Santa Monica Review and The Denver Quarterly.
---
Order From Amazon