My Mistress, Humanity
by Chuck Rosenthal

"Rich, poetic, and profound."
—William H. Gass
In the year 2015 a series of catastrophic meteorological events have crippled the technological infrastructure of the world and humankind is on the verge of total annihilation. One man knows the secret and only one young woman can save the planet. From Chuck Rosenthal comes an apocalyptic vision of the future, My Mistress, Humanity.
Now trapped in Antarctica, astronaut, Hester Zu, rescues a stranger on the glacier outside a training laboratory who turns out to be nuclear-neurologist Werther Fausten. Fausten, raging between brilliance and madness, tells the incredulous Zu his tale of a monster, a dragon, released from his unconscious and responsible for the destruction of the modern world. On horseback, carrying a three-pronged trident forged for one and only one purpose, Fausten has tracked the creature down the continents of North and South America to the bottom of the world, to meet his creation and slay her.
There is another person in the world who believes and understands the dragon. Zu's granddaughter, Lisa Piccolo Zu, who with her mother El joins a sailing expedition down the coasts of North and South America on a surreal, post-apocalyptic journey to save the astronauts of the Antarctic training Lab. On the polar wasteland, all of them eventually must struggle for survival and each, in their own way and time, encounter the reality, the myth, the horror of the monster.
Rosenthal's gothic vision of the future is both terrifying and beautiful. In the gorgeous lyric prose for which he's known, like the creator of a modern-day Frankenstein monster, Chuck Rosenthal takes us on a journey towards humanity's ultimate destruction and redemption.
256 pages
Softcover
ISBN 0-9676003-5-9
$17.95
"An outrageous love song, partly on-the-road, partly a visionary treatise on the shape of the soul. A fantastic journey to retrieve the tatters of shimmering humanity when the world appears to be nearly shattered."
—Joy Harjo, author of A Map to the Next World
"There is a long and noble tradition, from Spenser's Faerie Queen through Delillo's White Noise and now to Rosenthal's My Mistress, Humanity, of great allegorical inventions depicting the struggle between good and evil. Rosenthal has his dragon, too-a wondrous one-and stunning confrontations that might paralyze even the Red Cross Knight. He has written a novel that is imaginative, rich, poetic, and profound."
—William H. Gass, author of The Tunnel
"Chuck Rosenthal is a magician-genius who has conjured a new genre. Part sci-fi, part fantasy, part evil fairy tale, part pure action-packed adventure yarn in which dragons eat poets like popcorn, this is a beautifully written, brilliant, deeply philosophical novel."
—Chuck Kinder, author of Honeymooners
---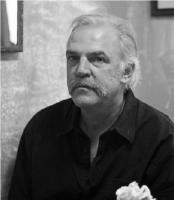 CHUCK ROSENTHAL is the author of more than seven novels, and a memoir. His fiction has appeared in many journals including The Santa Monica Review and The Denver Quarterly.
---
Order From Amazon