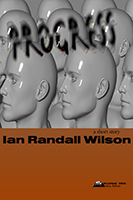 Progress
(an e-book single)
by Ian Randall Wilson
In this short story of speculative fiction, sometime in the future, Mary Evelyn, a poet, clones herself so that her poetry will live on. But the clone in no way turns out as hoped. Ian Randall Wilson brings us a story of mankind's selfishness made manifest.
---

©2014 Rebecca Dru Photography
Ian Randall Wilson's short stories and poetry have appeared in many journals including The Gettysburg Review, Alaska Quarterly Review, and North American Review. A faculty member at the UCLA Extension, he is the winner of the 1994 Cera Foundation Poetry Award.
---
Order the Kindle Edition From Amazon