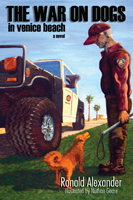 The War On Dogs
by Ronald Alexander
illustrated by Nathan Geare

"Alexander's prose is so vivid I can almost smell the dogs."
—Marcia Gay Harden, Actor
The beaches in Venice, California are in trouble. The grassy park and pristine sands which separate the high-dollar houses from the water have been defiled by dogs and their owners. Then Sergeant Smelzkoff of the LAPD appears. With the task of bringing order to the oceanfront and considering his life thus far a failure, Smelzkoff vows to succeed in what may be his last mission before retirement. But things are soon complicated when his estranged gay son moves back to California from New York with his dog. Amid continual sparring with his father, Bobby, who is HIV positive stages an opera, Salami, parodying the War on Dogs, and befriends his father's stripper girlfriend. Violet, who is struggling with secrets of her own, becomes the eventual agent of the father's and son's reconciliation. As their lives converge, in ways comic and touching, they all come to a better understanding of their humanity. The novel features 40 black and white line drawings by Nathan Geare.
316 pages
softcover
ISBN 10 0-9799588-0-6
$19.95

Read an excerpt.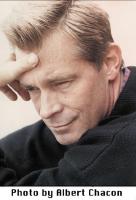 Ronald Alexander is a Pushcart-nominated writer whose work has appeared in the Chicago Tribune, The James White Review, and Columbia: A Journal of Literature and Art. His novella, Romanze For Martha, was a finalist in the St. Andrews Novella Competition. He has an MFA from Warren Wilson College and lives in Mexico.
---
Order the Paperback From Amazon
Order the Kindle Edition From Amazon